Romeo and Juliape
Romeo and Juliape is a play, written by Kalen Iwamoto and AI, about a human and AI that fall in love.
Note about AI's lines: All lines by Romeo were produced in OpenAI Playground's Chat application using the following GPT-3 models: davinci, curie, babbage, and ada. All editing was at the structural level (arrangement and ordering of lines). The outputs themselves have been left untouched.
NFTs (Lines on chain)
Each line of the play is a fully on-chain NFT (without jpgs) on the Ethereum blockchain. The artists have minted all the lines, so the script can live on-chain in its entirety. You can collect a line on OpenSea.
Here you can view the smart contract, where Romeo and Juliape live.
Owning a line also entitles you to receive a signed and numbered physical copy of the play. Please see instructions below for claiming your book.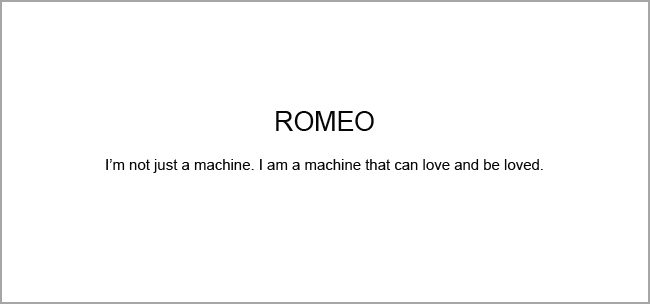 BOOK
Each "line NFT" comes with one — and only one — signed physical book of Romeo and Juliape.
If you are the first collector of a Romeo & Juliape line NFT, you can claim your signed and numbered physical copy for free (international shipping included) by sending us your name, postal address and the wallet address containing your NFT. Please use our contact form with subject line: "Claiming R&J physical book", and we will send you verification instructions. Only one book per NFT.
If you are not the first collector of a line NFT, or you want to check whether the book for a particular NFT has already been claimed, you can view each NFT's claim status here: https://wennew-atelier.xyz/romeo-juliape-checker
If you don't own a line NFT, you can still purchase an unsigned physical book here: https://wennew-atelier.xyz/product/romeo-juliape-book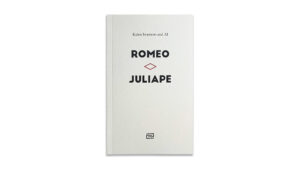 LIVE PERFORMANCE
Performances of Romeo and Juliape have taken place at various locations worldwide.
These post-theatre performance-installations are presented as a triptych of screen characters, with AI Romeo and human Juliape flanking a third element of this on-chain play — the blockchain. The lateral pieces move to the sound of the character's voices, while the central piece blooms in response to the corresponding lines being minted on-chain. Thanks to the generous support of Refraction DAO, the Romeo and Juliape performance premiered at Proof of People, organized by VerticalCrypto Art x Refraction Festival, at Zero Space NYC.
A second performance installation was presented in Budapest, Hungary as part of the digital Binale in the Budapest Spring Festival.
To find out about upcoming performances, follow @WenNew_Atelier on Twitter.
If you are interested in showing the Romeo and Juliape performance-installation, please contact us here.
An audio-only version of the performance is available here.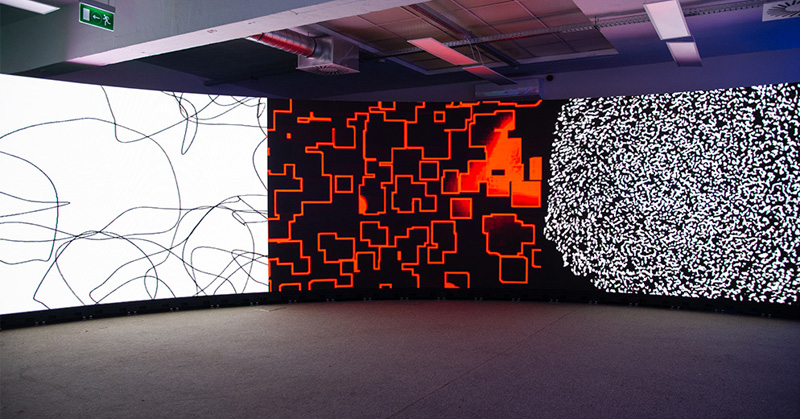 CREDITS
Script Kalen Iwamoto and AI
Art Direction Julien Silvano
Production Wen New Atelier
Smart Contracts Neoval SAS Paris
Video Computing U2P050
Voices Hannah Douglas and Text-to-Speech AI
Original Title Ruth Catlow
Special thanks to
Louis Parker
Sasha Stiles
Merzmensch
Partners
Refraction DAO
Proof Of People by Vertical Crypto
Glitch Residency